Multimedia Lectures


by leading world experts
<![if !vml]>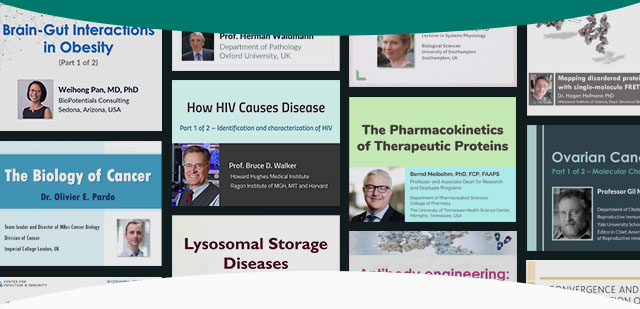 <![endif]>
As a member of Academia Sinica you have full access to The Biomedical & Life Sciences Collection. The collection is used in teaching and as continuing support for researchers. It includes seminar-style talks on a wide range of topics extending from basic research to therapeutic intervention, from the level of the single molecule to entire populations and includes both advanced and introductory-level talks. New lectures are added every month. Below you can view examples of content released in 2021.
<![if !vml]><![endif]>

Understanding statistics in epidemics and pandemics: lessons learned from COVID-19

Prof. Sarah Ransdell
Nova Southeastern University, USA
<![if !vml]><![endif]>

An introduction to exercise metabolism

Prof. Emeritus Michael Gleeson
Loughborough University, UK
<![if !vml]><![endif]>

Medical decision-making in acute care: philosophy and approach

Prof. Robin Taylor
NHS Lothian, UK
<![if !vml]><![endif]>

COPD and asthma: similarities and differences

Prof. Peter Barnes
Imperial College London, UK
<![if !vml]><![endif]>

TEACCH autism program: supporting the unique learning differences of autism

Dr. Laura Grofer Klinger
The University of North Carolina at Chapel Hill, USA
<![if !vml]><![endif]>

Cognitive-behavioral therapy for chronic worry

Dr. Robert L. Leahy
American Institute for Cognitive Therapy, USA
<![if !vml]><![endif]>

Anatomy of the leg and ankle: an introduction

Prof. Nalini Pather
University of New South Wales, Australia
<![if !vml]><![endif]>

Evolution of agriculture: the origin of our food crops

Dr. Mona Schreiber
IPK, Gatersleben, Germany
<![if !vml]><![endif]>

How are synapses affected by Alzheimer's disease?

Dr. Mariana Vargas-Caballero
University of Southampton, UK
<![if !vml]><![endif]>

Bacterial activation of epithelial signaling

Prof. Alice Prince
Columbia University, USA
<![if !vml]><![endif]>

Modulating gene expression to treat diseases

Dr. Navneet Matharu
University of California San Francisco, USA
<![if !vml]><![endif]>

Vaccines as a weapon against antibiotic resistance

Dr. Pumtiwitt McCarthy
Morgan State University, USA
<![if !vml]><![endif]>

Latest advances in the development of CAR & TCR T-cell treatments for solid tumours

Dr. Else Marit Inderberg
The Norwegian Radium Hospital, Norway
Embedding in a Course
With a few clicks a lecture, or an extract from it, can be embedded in your course materials, website, or virtual learning environment.
Content Suggestions
If you teach and would like an HSTalks content specialist to provide you with a curated lecture list, reach out using the contact details below.
For more specially commissioned lectures:
<![if !vml]>

<![endif]>
For assistance, contact HSTalks subscriber support:
Subscriber Support, Henry Stewart Talks Ltd
Tel: +44 (0) 20 7164 6721, Email: access@hstalks.com
Address: 40/41 Museum Street, London WC1A 1LT, United Kingdom